£240.00
Stylo Matchmakers Heirship Sixty Eight is a Professional football shoe for use on hard natural surfaces. The premium lightweight Stylo Matchmakers real leather upper offers the player maximum comfort and ball control. Quilted protection ankle lining, distinctive pro retro style model worn by the legends of the seventies that include George Best, Steve Heighway, Trevor Francis and Bobby Collins. Premium lightweight real leather upper. . Quilted protection ankle lining Outer Material: Genuine Leather Bladed modernised sole plate
Description
Stylo Matchmakers Heirship Sixty Eight:
When Stylo truly took off:
The classic Stylo Matchmakers Heirship Sixty Eight design was the first Stylo Matchmakers boot to go, as we would describe it today, viral, back in 1968. The Heirship Sixty Eight boot launched with its distinctive and prominent white stripes, which then wowed the industry, as beforehand, football boots were generally plain or simply all black. With this new designer element to Stylo Matchmakers and the savvy signing of no other than George Best, the brand watched sales skyrocket with over 1 million pairs sold.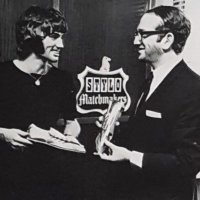 This was trailblazing at the time and led the way for how footballers worked with brands. Stylo became the biggest English boot label and went head to head with the German giant brands.
George Best had influenced a world of aspirational juniors to wear these stand out Stylo Matchmakers football boots and you could only get them in quality sports shops.
Adverts including "put yourself in my shoes" and "It's only the best for me and Georgie" went out all over the world. In an age without the internet, the ads were placed in all of the top football magazines which sent customers to their nearest sports retailer.
THE REMAKE
This remastered and modernized re-boot has the same iconic black and white design and is still today a Professional football boot for use on hard natural pitches. The premium lightweight Stylo Matchmakers Heirship Sixty Eight real leather upper offers the player maximum comfort and ball control.

ALSO WORN BY
AMOKACHI
With amazing World Cup performances, Daniel Amokachi came third in the African Footballer of the Year award on three separate occasions. As a top striker, he was known for his speed, technique and physical strength, which earnmed him the nicknames Black Bull and Black Train. Amokachi, who is also very popular and well known in his country, contributed to Nigeria's top two tournaments to the World Cup along with his attack partner Emmanuel Amunike. In 2018, Amokachi played in the Legends game for the Kanu Heart Foundation Charity and wore his Heirship Sixty-Eight Matchmakers to beat the opposing team of legends.
HEIGHWAY
In 1968 Liverpool F.C Wonder kid Steve Heighway also put pen to paper signing with Stylo Matchmakers. This takes the brand to the next level on football boot endorsements with some of the highest-profile players wearing the "Stripe of Quality"
Steve often took the "highway" up the left-wing, riding tackles, showing perfect ball-control at breakneck speed and delivering great passes. He was one of the greatest entertainers who has ever graced the Liverpool shirt.
DUBLIN
Born in Leicester and of Nigerian descent, Dion Dublin was capped on four occasions for England. Interestingly Dublin started his career as a center-back with Norwich City, but made his name at Cambridge United as a center-forward. He then went on to other clubs which include Manchester United, Coventry City, Millwall, Aston Villa, Leicester City, and Celtic. More recently in 2015, he joined the presenting team on the BBC One daytime show Homes Under the Hammer.
FRANCIS
Earlier in 1970, the hottest young striker in the game signed an early boot deal with Stylo Matchmakers, the first model he wore was the Heirship Sixty Eight. The player was none other than Trevor Francis.  Like George Best, Trevor was also a fan favorite to his home city crowd and the Stylo Matchmakers marketing grew stronger. In 1974, he moved onto Stylo's Heirship Seventy Four boot model and five years after that he became Britain's first one million pound player following his transfer from Birmingham City to Nottingham Forest.
BROOMES

Premier league left back and sweeper Marlon Broomes (leading to his nickname of "Broomes, the sweeper") began his career in 1994 with Blackburn Rovers and Broomes was part of the squad that went on to win the title in the 1994–95 season. Today Marlon looks 'To Create Technically Gifted Football Players' heading up the Pro Football Academy in Leigh, North West England.
PHILLIPS
"There's rules to the game" influential grassroots football coach Coach Phillips suited and booted in the Stylo Matchmakers Heirship Sixty Eight tracksuit and boot combo with an assistant in his Heirship Seventy Four tracksuit.
WILLIAMS
Top 1 on 1 professional football coach Dave Williams coaching in style wearing his Heirship Academy Blackouts whilst his assistant wears a new pair of Heirship Sixty Eights. Dave1on1 is recognized at the forefront of the professional 1on1 coaching industry.
WINDER
Ryan Winder, midfielder of Lancaster FC within the Northern Premier League Premier Division training hard in his Stylo Matchmakers Heirship Sixty Eight boot and tracksuit combo.