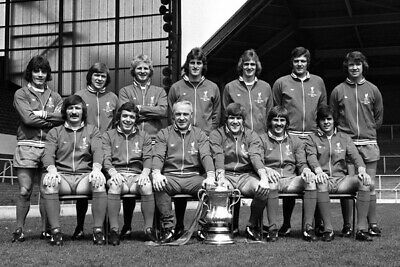 In 1974 tekende Stylo Matchmakers een deal met Liverpool F.C. om de allereerste schoenensponsor van de club te worden. De legende Bill Shankly onderschreef de overeenkomst en droeg ze tijdens de trainingen van de club.
Liverpool even lifted the FA Cup that season in Bill Shankly's 14th and final season in charge. Announcing his retirement two months after winning 3-0 against Newcastle in the Final, Shankly was hailed by the fans as a hero, when heading into retirement. Kevin Keegan scored twice in the final, further confirming his status among the Liverpool faithful. However, the club's second-place finished in the league saw them lose their defense of the league title to Leeds United.
William "Bill" Shankly, OBE (2 september 1913 - 29 september 1981) was een van de meest succesvolle en gerespecteerde voetbalmanagers van Groot-Brittannië. Shankly was ook een goede speler, wiens carrière werd onderbroken door de Tweede Wereldoorlog. Hij speelde bijna 300 keer in The Football League voor Preston North End en vertegenwoordigde Schotland zeven keer. Hij speelde ook voor Partick Thistle en Carlisle United.
Bill Shankly werd geboren op 2 september 1913 in Glenbuck, Schotland. Hij wordt echter het meest herinnerd om zijn prestaties als manager, vooral met Liverpool. Shankly nam Liverpool onder zijn hoede toen het onderaan stond in de Tweede Divisie, maar vestigde het al snel als een van de belangrijkste spelers in de Engelse competitie. Gedurende zijn 15 jaar bij de club wonnen ze drie divisiekampioenschappen, twee FA Cups en de UEFA Cup, voordat hij verrassend met pensioen ging na het winnen van de FA Cup Final in 1974.
Liverpool Manager
Het was Shankly's eigen inzet en enthousiasme dat Liverpool voorzitter T.V. Williams aanvankelijk had geïntrigeerd toen Shankly in 1951 was geïnterviewd voor de vacante Liverpool baan, en in december 1959, na een beschamende nederlaag tegen non-league Worcester City in de FA Cup, werd Shankly aangesteld als manager van Liverpool.
Liverpool had in de jaren '50 een periode van verval doorgemaakt, na in de eerste helft van de eeuw vijf competitietitels te hebben gewonnen, en kwijnde op dat moment weg in de Tweede Divisie, met een afbrokkelend stadion, slechte trainingsfaciliteiten, en een grote poel van ongetalenteerde spelers. Shankly liet 24 van deze spelers gaan en veranderde een opslagruimte in een ruimte voor tactische besprekingen, waar Shankly, samen met andere Boot Room oprichters Joe Fagan, Reuben Bennett, en Bob Paisley het team opnieuw vorm begonnen te geven.
Het trainingsveld in Melwood was in een slechte staat, overwoekerd en met slechts één leidingwaterkraan. Shankly maakte hier een sterk punt van door de spelers in plaats daarvan op Anfield te laten aankomen en ze dan met de bus naar Melwood te brengen, waardoor team kameraadschap ontstond. Op Melwood introduceerde Shankly fitnesstraining, inclusief dieet evaluatie, en vaardigheidstraining inclusief het gebruik van een kunstmatig doel geschilderd op een handige muur, verdeeld in acht secties die hij van de spelers eiste elke keer te raken. Om te oefenen, introduceerde Shankly vijf-tegen-vijf wedstrijden, en na de training ging het team met de bus terug naar Anfield om samen te douchen, om te kleden en een gezamenlijke maaltijd te nuttigen. Op deze manier verzekerde Shankly zich ervan dat al zijn spelers goed waren opgewarmd en hield hij zijn spelers vrij van blessures.
1960 Liverpool Team
Slowly at first, and then with a gathering pace, Bill Shankly and his backroom team turned Liverpool around, and with new signings Ron Yeats, Ian St. John and Gordon Milne, a promotion was gained back to the First Division in 1961-1962. Liverpool finished 8th in their first season back in the top flight. The addition of Peter Thompson in 1963 further strengthened the team, and in 1963-1964 Liverpool clinched their 6th league title, ahead of Manchester United.
In 1964-65, Liverpool won the FA Cup for the first time in the club's history with a 2-1 victory over Leeds United at Wembley. The team finished 7th in the League, and reached the European Cup semi-finals, before eventually succumbing 4-3 on aggregate to Inter Milan managed by Helenio Herrera, after taking a 3-1 first-leg lead to the San Siro.
In 1965-66, Liverpool won the league title, reached the final of the European Cup Winner's Cup, losing 2-1 in extra time to Borussia Dortmund, and beat Everton to win the subsequent following season's, Charity Shield. However, Liverpool's performance in the 1966-67 European Cup was poor, and after struggling to overcome FC Petrolul Ploie?ti in the first round, were dumped out of the last-16 by Ajax inspired by then 19-year-old Johan Cruyff (7-3 on aggregate; including a 5-1 hammering in Amsterdam). It was this game that convinced Shankly that a more patient, possessive way of playing would be required if Liverpool were to achieve consistent success in Europe. Liverpool gradually improved their League performances again over the course of the next few years, finishing 5th, then 3rd, then 2nd, as Leeds United and Manchester United prevailed.
1970 Liverpool Team
Het team van begin jaren '70 kende een overgangsperiode die voorafging aan de geboorte van Shankly's tweede grote Liverpool-elftal. Spelers als Roger Hunt, Ian St.John, Ron Yeats en keeper Tommy Lawrence werden verkocht of ontslagen, en nieuwe spelers als Kevin Keegan, Emlyn Hughes, Steve Heighway, John Toshack en Ray Clemence werden binnengehaald.
Liverpool eindigde 5de in 1969-70 toen Everton de titel heroverde, en weer 5de in 1970-71, toen ze in de finale van de F.A. Cup verloren van het tweevoudig winnende Arsenal. In 1971-72 werden ze net geen kampioen, eindigden derde in een groep van vier ploegen die om de titel streden, en slechts één punt achter Brian Clough's Derby County.
In 1972-73 werd de club kampioen van de competitie, ondanks sterke concurrentie van Arsenal en Leeds. Liverpool won ook hun eerste Europese trofee, de UEFA Cup, door Borussia Moenchengladbach met 3-2 te verslaan in een finale met twee ploegen. Liverpool verloor van Leeds in de competitie van het volgende seizoen, maar won de F.A. Cup opnieuw, toen Liverpool Newcastle United versloeg in een 3-0 overwinning op Wembley, in wat Shankly's laatste competitiewedstrijd bleek te zijn.
Shankly's relatie met fans
Door zijn arbeidersachtergrond had Bill Shankly een sterk gevoel voor hoe de fans het team volgden en wilden dat ze presteerden. Hij vond dat hij de fans teleurstelde als het team het niet goed deed. Als hij de voetbalclub niet leidde, zat Shankly vaak achter zijn typemachine te werken en beantwoordde hij persoonlijk brieven van fans die op Melwood aankwamen. Shankly belde zelfs supporters thuis om de wedstrijd van de vorige dag te bespreken, terwijl de verslagen van hem die kaartjes voor fans verschaften eindeloos zijn.
Een van de meest iconische beelden kwam tot stand op televisie in april 1973, toen Shankly en zijn team de trofee van het kampioenschap van de Liga aan de fans in de Kop lieten zien. Een Liverpool-sjaal die tijdens een ereronde naar Shankly was gegooid, werd door een politieagent opzij gegooid. Shankly greep de sjaal en berispte hem met de woorden: "Doe dat niet. Dit kan iemands leven zijn". Na zijn pensioen, zei hij: "Ik deed het alleen voor de liefde van het voetbal - en ik wilde de mensen van Liverpool weer gelukkig maken."