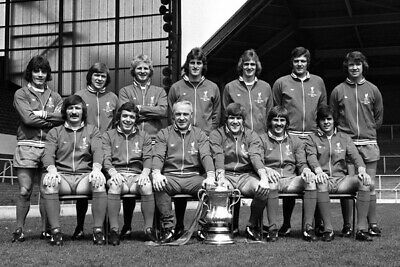 Nel 1974 Stylo Matchmakers firmò un accordo con il Liverpool F.C per diventare il primo sponsor di scarpe del club. La leggenda Bill Shankly approvò l'accordo per le scarpe e le indossò nelle sessioni di allenamento del club.
Liverpool even lifted the FA Cup that season in Bill Shankly's 14th and final season in charge. Announcing his retirement two months after winning 3-0 against Newcastle in the Final, Shankly was hailed by the fans as a hero, when heading into retirement. Kevin Keegan scored twice in the final, further confirming his status among the Liverpool faithful. However, the club's second-place finished in the league saw them lose their defense of the league title to Leeds United.
William "Bill" Shankly, OBE (2 settembre 1913 - 29 settembre 1981) è stato uno dei manager di calcio più rispettati e di successo della Gran Bretagna. Shankly fu anche un ottimo giocatore, la cui carriera fu interrotta dalla seconda guerra mondiale. Ha giocato quasi 300 volte nella Football League per il Preston North End e ha rappresentato la Scozia sette volte, oltre a giocare per il Partick Thistle e il Carlisle United.
Bill Shankly è nato il 2 settembre 1913 a Glenbuck, in Scozia. È più ricordato, tuttavia, per i suoi successi come manager, in particolare con il Liverpool. Shankly prese il comando del Liverpool quando erano in fondo alla Second Division, ma presto si affermò come una delle maggiori forze del gioco inglese. Durante i suoi 15 anni al club, hanno vinto tre campionati, due FA Cup e la Coppa UEFA, prima del suo ritiro a sorpresa dopo aver vinto la finale di FA Cup del 1974.
Manager di Liverpool
Furono l'impegno e l'entusiasmo di Shankly che inizialmente incuriosirono il presidente del Liverpool T.V. Williams quando Shankly fu intervistato per il posto vacante del Liverpool nel 1951, e nel dicembre 1959, dopo un'imbarazzante sconfitta contro il Worcester City in FA Cup, Shankly fu nominato manager del Liverpool.
Il Liverpool aveva sofferto un periodo di declino negli anni '50, dopo aver vinto cinque titoli di campionato nella prima metà del secolo, e in questo periodo languiva in Second Division, con uno stadio fatiscente, strutture di allenamento scadenti e un grande serbatoio di giocatori senza talento. Shankly liberò 24 di questi giocatori e convertì un magazzino in una stanza per le discussioni tattiche, dove Shankly, insieme ad altri membri fondatori della Boot Room Joe Fagan, Reuben Bennett e Bob Paisley iniziò a rimodellare la squadra.
Il campo di allenamento di Melwood era in un cattivo stato di cose, invaso dalla vegetazione e con un solo rubinetto dell'acqua. Shankly trasformò questo in un punto di forza, facendo in modo che i giocatori arrivassero invece ad Anfield e poi li portassero in autobus a Melwood, creando un cameratismo di squadra. A Melwood, Shankly introdusse l'allenamento di fitness, compresa la valutazione della dieta, e l'allenamento delle abilità, compreso l'uso di una porta artificiale dipinta su un muro conveniente, divisa in otto sezioni che lui avrebbe preteso che i giocatori colpissero ogni volta. Per la pratica del gioco, Shankly introdusse partite a cinque, e dopo l'allenamento, la squadra tornava ad Anfield in autobus tutti insieme per fare la doccia, cambiarsi e mangiare un pasto comune. In questo modo Shankly si assicurava che tutti i suoi giocatori si fossero riscaldati correttamente e manteneva i suoi giocatori liberi da infortuni.
Squadra di Liverpool del 1960
Slowly at first, and then with a gathering pace, Bill Shankly and his backroom team turned Liverpool around, and with new signings Ron Yeats, Ian St. John and Gordon Milne, a promotion was gained back to the First Division in 1961-1962. Liverpool finished 8th in their first season back in the top flight. The addition of Peter Thompson in 1963 further strengthened the team, and in 1963-1964 Liverpool clinched their 6th league title, ahead of Manchester United.
In 1964-65, Liverpool won the FA Cup for the first time in the club's history with a 2-1 victory over Leeds United at Wembley. The team finished 7th in the League, and reached the European Cup semi-finals, before eventually succumbing 4-3 on aggregate to Inter Milan managed by Helenio Herrera, after taking a 3-1 first-leg lead to the San Siro.
In 1965-66, Liverpool won the league title, reached the final of the European Cup Winner's Cup, losing 2-1 in extra time to Borussia Dortmund, and beat Everton to win the subsequent following season's, Charity Shield. However, Liverpool's performance in the 1966-67 European Cup was poor, and after struggling to overcome FC Petrolul Ploie?ti in the first round, were dumped out of the last-16 by Ajax inspired by then 19-year-old Johan Cruyff (7-3 on aggregate; including a 5-1 hammering in Amsterdam). It was this game that convinced Shankly that a more patient, possessive way of playing would be required if Liverpool were to achieve consistent success in Europe. Liverpool gradually improved their League performances again over the course of the next few years, finishing 5th, then 3rd, then 2nd, as Leeds United and Manchester United prevailed.
Squadra di Liverpool degli anni '70
La squadra dei primi anni '70 vide un periodo di transizione che precedette la nascita del secondo grande Liverpool di Shankly. Giocatori come Roger Hunt, Ian St.John, Ron Yeats e il portiere Tommy Lawrence furono venduti o rilasciati, e vennero portati nuovi giocatori come Kevin Keegan, Emlyn Hughes, Steve Heighway, John Toshack e Ray Clemence.
Il Liverpool finì 5° nel 1969-70 mentre l'Everton riconquistava il titolo, e di nuovo 5° nel 1970-71, perdendo in finale di F.A. Cup contro l'Arsenal vincitore di due titoli. Mancarono di poco un altro titolo nel 1971-72, finendo terzi in un gruppo di quattro squadre in lizza per il titolo, e solo un punto dietro il Derby County di Brian Clough.
Nel 1972-73 il club si aggiudicò il titolo di campione, nonostante la forte concorrenza di Arsenal e Leeds. Il Liverpool vinse anche il suo primo trofeo europeo, la Coppa UEFA, superando il Borussia Moenchengladbach per 3-2 in una finale a due gambe. Il Liverpool perse contro il Leeds nella gara di campionato della stagione successiva, ma vinse la F.A. Cup ancora una volta, quando il Liverpool superò il Newcastle United in una completa vittoria per 3-0 a Wembley, in quella che si rivelò l'ultima partita competitiva di Shankly in carica.
Il rapporto di Shankly con i tifosi
A causa del suo background di classe operaia, Bill Shankly aveva un forte sentimento per come i tifosi seguivano la squadra e volevano che si comportassero. Sentiva di deludere i tifosi quando la squadra non faceva bene. Quando non dirigeva la squadra di calcio, Shankly lavorava spesso alla sua macchina da scrivere, rispondendo personalmente alle lettere dei tifosi che arrivavano a Melwood. Shankly chiamava persino alcuni tifosi a casa per discutere della partita del giorno precedente, mentre i resoconti di lui che forniva biglietti ai tifosi sono infiniti.
Una delle immagini più iconiche di tutte fu catturata in televisione nell'aprile 1973, quando lui e la squadra stavano mostrando il trofeo del Campionato di Lega ai tifosi nella Kop. Una sciarpa del Liverpool che era stata lanciata a Shankly durante un giro d'onore fu lanciata da un lato da un poliziotto. Shankly si avventò sulla sciarpa e lo rimproverò, dicendo: "Non farlo. Questa potrebbe essere la vita di qualcuno". Dopo il suo ritiro, disse: "Ero nel gioco solo per amore del calcio - e volevo riportare la felicità alla gente di Liverpool".