THE BRAND FIRST ENTERED FOOTBALL WITH LEEDS UNITED SCOTTISH FOOTBALLER BOBBY COLLINS BECAME THE FIRST PROFESSIONAL TO WEAR STYLO MATCHMAKERS IN 1966.  STYLO MATCHMAKERS HEAD OFFICE WAS JUST DOWN THE ROAD FROM ELLAND ROAD AND THE BRAND FORMED A STRONG RELATIONSHIP WITH THE CLUBS MANAGER DON REVIE.
Don Revie was born on July 10, 1927, in Middlesbrough, Teeside, UK. He died on May 26 1989, in Edinburgh, Scotland.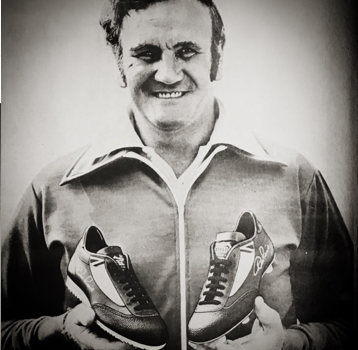 In his playing career, Don Revie was a forward with Manchester City and helped the Blues win the FA Cup in 1956 defeating Birmingham City 3-1 at Wembley. A year earlier he had been named as the Footballer of the Year.  One of the best if not the best Leeds United managers in history. He led them to the league championship in 1969 and 1974 in a team that included legendary names such as Billy Bremner, Jack Charlton, Norman Hunter and Johnny Giles.
Don Revie was awarded the OBE (Officer of the Order of the British Empire) in the 1970 Queen's New Years Honours List for his services to Association Football.  don became the manager of England in 1974 but left the hot seat in 1978 when the country failed to qualify for the World Cup. He secretly negotiated a job to manage in the United Arab Emirates whilst still under contract, much to the disgust of the English FA who tried to have him banned from the game. However, a high court ruling went in favour of Revie.
Sadly in the 1980s he suffered with motor neurone disease and spent the latter years of his life in a wheelchair, passing away on 26th May 1989.