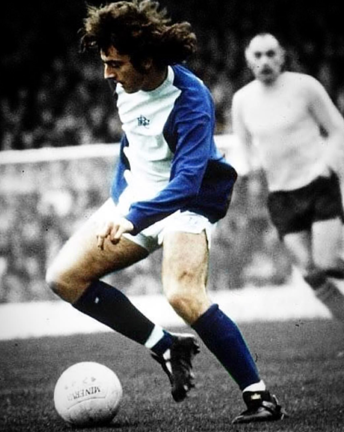 In 1970 the hottest young striker in the game signed a boot deal with Stylo Matchmakers. The player was none other than Trevor Francis. Trevor was a fan favorite in his home city of Birmingham and the brand's marketing grew stronger since by this point they had already had great success with world-class footballers Bobby Collins, Pele and George Best.  In a 23-year career, Francis had gone from the Second Division of the early 1970s to the Premier League of the 1990s, rubbed shoulders with Cruyff and Beckenbauer in the USA, experienced the hotbed of Italian football in the 1980s, and, in one iconic moment, had stooped low to conquer European football. Clough needn't have worried about the pressure of the price tag.
Like Liverpool's winger Steve Heighway. Francis was involved early enough with Stylo Matchmakers for him to wear multiple Stylo boot models. Today these boot designs have been remastered and modernised, making them a perfect fit for any players today looking for a perfect balance of comfort and style.  Trevor Francis played as a forward for a number of clubs in England, Scotland, Italy and the United States. In 1979 he allegedly became Britain's first £1 million player following his transfer from Birmingham City to Nottingham Forest. However we later discovered it was actually Manchester City's Steve Daley who was the first to go for £1m. It's reported that Stylo Matchmakers legend Brian Clough, actually sold Francis for a penny less than £1m to keep Francis' ego at bay.
He scored the winning goal for Forest in the 1979 European Cup final against Malmö. He won the European Cup again with the club the following year.  At an international level, Francis played for England 52 times between 1976 and 1986, scoring 12 goals, and played at the 1982 FIFA World Cup. Between 1988 and 2003 Trevor Francis was a football manager, most notably with Sheffield Wednesday and Birmingham City.  His final managerial post was at Crystal Palace, whom he left in 2003.