Robin Friday was arguably the coolest ever player to rock Stylo Matchmakers football boots.  Friday was a very talented footballer blessed with skill and an game intelligence – he had creative vision, could use both feet and was incredibly brave. A striker who could tackle, finish, and create goals. He won player of the season twice when playing for Reading. Robin was also voted Reading and Cardiff City's 'All-Time Cult Hero' in a BBC TV poll in 2004 and was voted Reading's 'Player of the Millennium' in 1999. He is an all-time great and will never be forgotten by those Royals supporters who saw him grace the Elm Park pitch in that era.  
Robin was a nonconformist, and he had his own tricks and skills, and he just wanted to entertain the fans.
Reading brought Robin in on trial for the reserves in November 1973.  Many great performances followed. Robin and Reading would go on to win promotion to the Third Division for the first time in fifty years. 
Robin's performances at Elm Park attracted the attention of many clubs. Eventually, even Reading couldn't control Robin, and Cardiff City bought him in December 1976. Robin left Elm Park for Ninian Park. 
The many tales of Robin Friday's antics both on and off the field are legends in Reading and Cardiff. Those who got to meet him say he had a special vibe about him and that he was a fearless but that he had a introverted side too. He liked to entertain both on and off the pitch, that's for sure. Robin Friday was a unique and complex personality. 
Even though Robin was really struggling with off-the-field issues at Cardiff City, he gained loyal fans, such with his skill and showmanship both on and off the field. 
George Best
George Best is widely considered one of the greatest football (soccer) players of all time. He was a Northern Irish forward who played for Manchester United and the Northern Ireland national team during his career. He was known for his exceptional technical skills, agility, and dribbling ability, as well as his vision, passing, and goal-scoring ability.
Best was known for his flair and style on the field, and his ability to entertain and excite the crowd. He was a player who could score goals, create assists and make the game look easy. He was also known for his ability to score spectacular goals, and for his ability to take on and beat multiple defenders. He was also a humble, charismatic and charming person, who was highly respected by fans and peers alike.
During his time at Manchester United, Best helped the team win the English First Division (now the Premier League) twice, and the European Cup (now the Champions League) once. He also won the Ballon d'Or (European Footballer of the Year) award in 1968, and was named to the FIFPro World XI (a team of the best players in the world) in 1968 and 1974. He was also included in the FIFA 100 list of the greatest living footballers and was inducted into the English Football Hall of Fame in 2002.
In summary, George Best was an exceptional player who possessed a rare combination of skill, flair, and vision, and his impact on the game of football is still felt today. He was a true legend of the game and his legacy continues to live on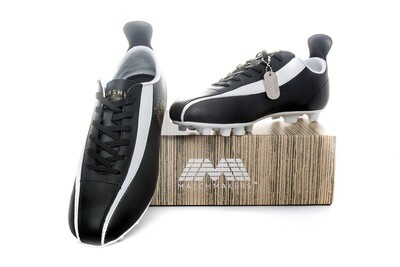 Stylo Matchmakers® Heirship Sixty Eight
Stylo Matchmakers® Heirship Sixty Eight