Bobby Moore was a professional footballer, considered by many to be one of the greatest defenders to ever grace the game. Moore played for West Ham United for over 15 years and played more than 600 games in all competitions. His career reached its pinnacle when he lifted the World Cup as Captain of the England team which defeated West Germany in the 1966 final at Wembley Stadium. He became a Member of Parliament following his retirement from football and went on to become an ambassador for UNICEF before retiring again to live with his family in Essex where he had grown up.
The player with the most appearances for England and captain of their 1966 World Cup winning team, Bobby Moore is revered as one of the greatest defenders to ever play football. Being named FIFA Player of the Century in 2000 speaks volumes about his legacy. But what made him so great? His ability to read a game before it developed was unparalleled. He would anticipate every possible move, cutting out any potential danger that might arise from an attack or counter-attack. No wonder Jock Stein famously said "there should be a law against him!" Moore signed a boot deal with Stylo Matchmakers in 1975 with the full Fulham team and reached the final of the FA Cup that year but were beaten in the final by one of Bobby's former clubs West Ham United.
Moore was awarded the OBE in 1967, just one of many accolades he would receive, including induction in to the football hall of fame in 2002. In 2007 his services to English football were recognised when a statue of Moore was unveiled outside the new Wembley Stadium, while the following year West Ham retired the number 6 shirt in honor of their former Captain, 50 years after his debut for the club.
Bobby Moore died at the age of 51 from Bowel cancer in 1993. It was not his first fight with the disease, having survived testicular cancer a couple of years before his famous World Cup triumph. A gentleman of the game, respected by his peers for his sportsmanlike conduct on the pitch, he remains to date the only Englishman to have the honor of triumphantly raising the World Cup.
George Best
George Best is widely considered one of the greatest football (soccer) players of all time. He was a Northern Irish forward who played for Manchester United and the Northern Ireland national team during his career. He was known for his exceptional technical skills, agility, and dribbling ability, as well as his vision, passing, and goal-scoring ability.
Best was known for his flair and style on the field, and his ability to entertain and excite the crowd. He was a player who could score goals, create assists and make the game look easy. He was also known for his ability to score spectacular goals, and for his ability to take on and beat multiple defenders. He was also a humble, charismatic and charming person, who was highly respected by fans and peers alike.
During his time at Manchester United, Best helped the team win the English First Division (now the Premier League) twice, and the European Cup (now the Champions League) once. He also won the Ballon d'Or (European Footballer of the Year) award in 1968, and was named to the FIFPro World XI (a team of the best players in the world) in 1968 and 1974. He was also included in the FIFA 100 list of the greatest living footballers and was inducted into the English Football Hall of Fame in 2002.
In summary, George Best was an exceptional player who possessed a rare combination of skill, flair, and vision, and his impact on the game of football is still felt today. He was a true legend of the game and his legacy continues to live on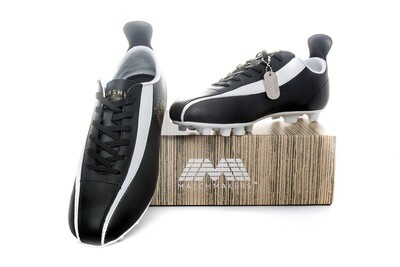 Stylo Matchmakers® Heirship Sixty Eight
Stylo Matchmakers® Heirship Sixty Eight