Pele, widely considered one of the greatest football (soccer) players of all time, wore Stylo Matchmakers football boots during his playing career. Stylo Matchmakers were first introduced in 1966, it's a classic leather boot that is still worn by professional players and amateurs today. Pele was one of the most famous players to wear the boots during his career and helped to establish Stylo Matchmakers as one of the most iconic boots in the history of football.
Pele the Greatest Player in the World! In 1966, two years before signing up George Best, the great Pele signed terms with Stylo Matchmakers and in the space of just a few months became the face of the brand leading up to the 1966 world cup finals in England.
This was huge news for the Stylo Matchmakers brand as Pele is still today regarded by many as the best football player in the world that has ever lived. Stylo Matchmakers had hit jackpot and was now going head to head with the big German brands as the go-to for professional football boots.
Pele, born Edson Arantes do Nascimento, is one of the most famous athletes ever. His name has become synonymous with soccer and he's often called "The King of Soccer." After being discovered at 15 years old, Pele quickly rose to fame by scoring three goals for Brazil in their first game against Sweden.
From then on, he would go on to score his 1,000th goal before turning 21 years old and winning three world cups with Brazil. Throughout his career as a professional athlete, he played for Santos FC from 1956-1974, scoring an impressive 1,281 goals in 722 games.
Soccer legend, Pele later announced his retirement from the sport, but he was lured back onto the field to play for New York Cosmos in 1974 and temporarily helped make NASL a big attraction. He played his final game in an exhibition between New York and Santos in October 1977, competing for both sides, and retired with a total of 1,281 goals in 1,363 games. 
Football legend Pele was also awarded the International peace award for his work with Unicef.
He was a minister in Brazil and ambassador to the UN for ecology and environment. The award was given to him by Nobel Peace Prize Laureate Archbishop Desmond Tutu of South Africa.
His legacy extends far beyond sport," said Tutu, who praised him for working on behalf of children and the poor as well as serving as an environmental activist and raising awareness about climate change. "He is truly worthy of this honor."
He had some health issues in recent years, but he continued to be active and engaged with the public until his unfortunate death in December 2022. 
George Best
George Best is widely considered one of the greatest football (soccer) players of all time. He was a Northern Irish forward who played for Manchester United and the Northern Ireland national team during his career. He was known for his exceptional technical skills, agility, and dribbling ability, as well as his vision, passing, and goal-scoring ability.
Best was known for his flair and style on the field, and his ability to entertain and excite the crowd. He was a player who could score goals, create assists and make the game look easy. He was also known for his ability to score spectacular goals, and for his ability to take on and beat multiple defenders. He was also a humble, charismatic and charming person, who was highly respected by fans and peers alike.
During his time at Manchester United, Best helped the team win the English First Division (now the Premier League) twice, and the European Cup (now the Champions League) once. He also won the Ballon d'Or (European Footballer of the Year) award in 1968, and was named to the FIFPro World XI (a team of the best players in the world) in 1968 and 1974. He was also included in the FIFA 100 list of the greatest living footballers and was inducted into the English Football Hall of Fame in 2002.
In summary, George Best was an exceptional player who possessed a rare combination of skill, flair, and vision, and his impact on the game of football is still felt today. He was a true legend of the game and his legacy continues to live on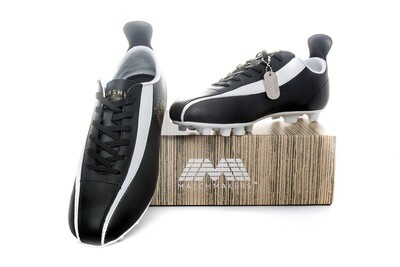 Stylo Matchmakers® Heirship Sixty Eight
Stylo Matchmakers® Heirship Sixty Eight