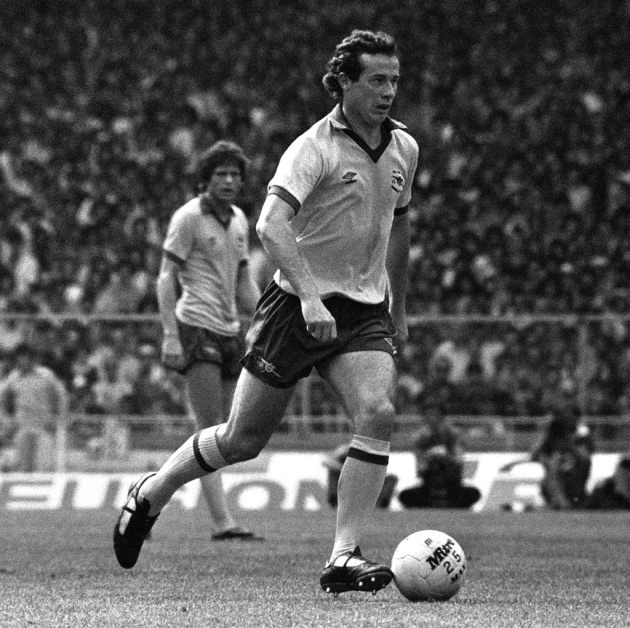 What football boots did Liam Brady wear? After Stylo Matchmakers had signed up the world's biggest superstars Pele and George Best, Liam Brady signed with Stylo Matchmakers in 1975 until 1979. The young talented Irish playmaker would also become a footballing legend and in 1979 he received the PFA player of the year award for Arsenal.
Brady started his career at Arsenal, moving to London to join the side on schoolboy forms in 1971, at the age of 15. He turned professional on his 17th birthday in 1973, and made his debut on 6 October 1973 against Birmingham City as a substitute for Jeff Blockley, and put in an assured performance. However his next match, in a North London derby against Tottenham Hotspur, Brady had a poor match, and Arsenal manager Bertie Mee decided from then on to use the young Irishman sparingly for the time being. Liam Brady ended the 1973–74 season with 13 appearances (four of them as a substitute) to his name.
In 1974–75 Brady was a first-team regular at Arsenal, and shone as a rare light in a side that hovered close to relegation for a couple of seasons in the mid-1970s. With the appointment of Terry Neill as manager and the return of Don Howe as coach, Brady found his best form. His passing provided the ammunition for Arsenal's front men such as Malcolm Macdonald and Frank Stapleton, and Arsenal reached three FA Cup finals in a row between 1978 and 1980. Arsenal won only the middle of the three, against Manchester United in the 1979 final, with Liam Brady starting the move that ended in Alan Sunderland's famous last-minute winner.
Brady was at the peak of his Arsenal form by now, as shown by one of his best goals for Arsenal; having dispossessed Peter Taylor he flighted a looped curled shot from the edge of the penalty area into the top corner, in a 5–0 win against Tottenham Hotspur on 23 December 1978. During this time he was voted the club's player of the year three times, and chosen as the PFA Players' Player of the Year in 1979. Being from Ireland, he was the first international player to win the award.
He was the most talented player in what was then a promising young Arsenal side, which was looking to consistently challenge for honours such as the Division One title. Despite this, by the 1979–80 season rumour was rife that Liam Brady would be leaving the club in search of a fresh challenge.
That season, Arsenal reached the Cup Winners' Cup final (losing to Valencia on penalties), having beaten Juventus 2–1 over two legs in the semi-finals. Brady's performance in the tie impressed the Italian giants and in the 1980 close season, they signed him for just over £500,000, becoming the first foreign player to sign for the club since the Italian borders were re-opened for foreign transfers in 1980.  He is remembered as one of Arsenal's all-time greats, playing 307 matches for the Gunners, scoring 59 goals and setting up many more.
Liam Brady spent two seasons with Juventus, wearing the number 10 shirt, and picking up two Italian Championship medals, in 1981 and 1982; Brady scored the only goal (a penalty) in the 1–0 win against Catanzaro that won the 1982 title.  After the arrival of Michel Platini in summer 1982, Brady moved to Sampdoria, and went on to play for Internazionale (1984–1986) and Ascoli (1986–1987), before returning to London in March 1987, for a transfer fee of £100,000, to play for West Ham United, where he scored 10 goals in 119 games in all competitions.  He was a member of the side relegated from the First Division in 1989 and played one season in the Second Division before finally retiring as a player in 1990. His last game came on 5 May 1990, a 4–0 home win against Wolverhampton Wanderers, a game in which he scored.
Liam Brady made his debut for Ireland on 30 October 1974, in a 3–0 win against the Soviet Union at Dalymount Park in a European Championship qualifier. Brady has claimed his favourite international goal was that against Brazil in 1987.
Due to a suspension accrued before Euro 88, he was not eligible to play within the tournament. During qualification for Italia 90, Brady retired from the international game. As Ireland got to the World Cup he declared himself available to play once again. However, Jack Charlton went on to declare that only those who played in the qualifiers would make the trip to Italy.  He won 72 international caps for the Republic of Ireland with 70 within the starting line-up, scoring 9 goals.

Brady was a talented offensive midfielder renowned for his left foot and elegant technical skills such as his high-quality passing, vision, and close control, which made him an excellent playmaker. He combined these abilities with significant tenacity, an eye for goal from midfield, and accurate penalty-taking. In addition to his footballing ability, Brady also stood out throughout his career for his professionalism. He found success both in England with Arsenal, where he won an FA Cup in 1979, and in Italy with Juventus, winning two Serie A titles. Brady was altogether capped 72 times for the Irish national football team.  Brady went on to manage two clubs – Celtic and then Brighton and Hove Albion – together with being the assistant manager of Ireland's national football team.
George Best
George Best is widely considered one of the greatest football (soccer) players of all time. He was a Northern Irish forward who played for Manchester United and the Northern Ireland national team during his career. He was known for his exceptional technical skills, agility, and dribbling ability, as well as his vision, passing, and goal-scoring ability.
Best was known for his flair and style on the field, and his ability to entertain and excite the crowd. He was a player who could score goals, create assists and make the game look easy. He was also known for his ability to score spectacular goals, and for his ability to take on and beat multiple defenders. He was also a humble, charismatic and charming person, who was highly respected by fans and peers alike.
During his time at Manchester United, Best helped the team win the English First Division (now the Premier League) twice, and the European Cup (now the Champions League) once. He also won the Ballon d'Or (European Footballer of the Year) award in 1968, and was named to the FIFPro World XI (a team of the best players in the world) in 1968 and 1974. He was also included in the FIFA 100 list of the greatest living footballers and was inducted into the English Football Hall of Fame in 2002.
In summary, George Best was an exceptional player who possessed a rare combination of skill, flair, and vision, and his impact on the game of football is still felt today. He was a true legend of the game and his legacy continues to live on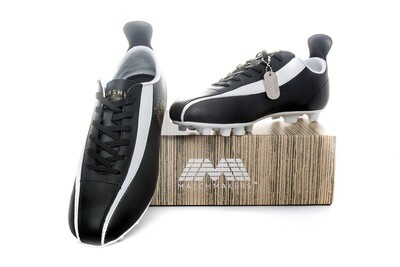 Stylo Matchmakers® Heirship Sixty Eight
Stylo Matchmakers® Heirship Sixty Eight