In 1974, Brian Clough signed up Stylo Matchmakers to Nottingham Forest as the club's boot sponsor. Brian Clough wore the boots during his infamous spell as manager of Leeds United and was impressed by the brand's quality. Arguably the most successful, almost certainly the most outspoken, English manager of his generation, Brian Clough's desire to win was first seen in an all-action playing career ultimately cut short by injury. Brian Clough was born in 1935 and died in 2004. He became one of the most successful managers ever. When he retired from management he had won an amazing 44% of his matches as a manager with Nottingham Forest and Derby County. He has also been described by many people as 'the best manager England never had'. Clough's career started at Hartlepools United before moving to Middlesbrough where he spent 12 years helping them become one of the strongest teams in England during that time. His managerial style was highly influential on other managers such as Alex Ferguson, Arsene Wenger and Kenny Dalglish who have all adopted some aspects into their own managing styles.
Brian Clough was one of the most successful and colorful football managers of all time. He managed at both international and club level, taking charge of teams in England, Scotland and Italy."
Cloughie is a legend around Nottingham Forest's home ground The City Ground, where he won two European Cups as manager. After retiring from football due to health issues he went on to work as a pundit for ITV Sport until his death in 2004. His autobiography 'Often I am So Happy' recollects memories from his childhood onwards including some insights into his managerial philosophy which has inspired many others since then.
He was awarded an OBE for his services to football in June 1991. During his 18 years as manager (with Peter Taylor as his assistant until 1982), he led Forest from 6th from the bottom of Division Two (January 1975) to winning the First Division Championship in 1978, followed by two consecutive European Cup wins in 1979 and 1980 and four League Cup victories. This has been argued as one of the greatest managerial feats in the English Football League's history to date. He was awarded Manager of the Year in 1978.
Brian Clough was spoken of as 'the greatest manager England never had', as he was overlooked for the national team job despite being one of the league's most successful managers. He was in fact interviewed for the job in 1977 and 1982. His qualifications were never in doubt, but it seems his outspoken views on the way football should be played, and run, ultimately counted against him.
George Best
George Best is widely considered one of the greatest football (soccer) players of all time. He was a Northern Irish forward who played for Manchester United and the Northern Ireland national team during his career. He was known for his exceptional technical skills, agility, and dribbling ability, as well as his vision, passing, and goal-scoring ability.
Best was known for his flair and style on the field, and his ability to entertain and excite the crowd. He was a player who could score goals, create assists and make the game look easy. He was also known for his ability to score spectacular goals, and for his ability to take on and beat multiple defenders. He was also a humble, charismatic and charming person, who was highly respected by fans and peers alike.
During his time at Manchester United, Best helped the team win the English First Division (now the Premier League) twice, and the European Cup (now the Champions League) once. He also won the Ballon d'Or (European Footballer of the Year) award in 1968, and was named to the FIFPro World XI (a team of the best players in the world) in 1968 and 1974. He was also included in the FIFA 100 list of the greatest living footballers and was inducted into the English Football Hall of Fame in 2002.
In summary, George Best was an exceptional player who possessed a rare combination of skill, flair, and vision, and his impact on the game of football is still felt today. He was a true legend of the game and his legacy continues to live on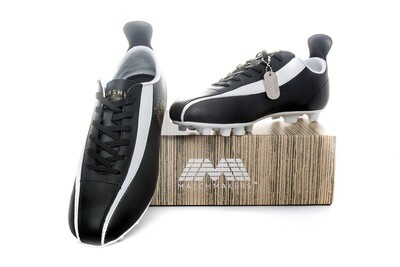 Stylo Matchmakers® Heirship Sixty Eight
Stylo Matchmakers® Heirship Sixty Eight