As the driving force of Leeds United, the legendary Billy Bremner who is remembered for the motto "Side before self every time." signed to Stylo Matchmakers in 1974 along with the full Leeds United Team.  Wearing their local British boot brand, Leeds lifted the title and dominated the English game over this time. As Captain of the greatest ever Leeds United team they went on to win two First Division titles, the FA Cup, and the League Cup.  Bremner was the midfield general par excellence.  Known as a tough-tackling midfielder, Bremner had no issue confronting anyone, and that included arguably the hardest man in professional football, Tottenham's Dave Mackay. In an opening game of the season against Tottenham, Bremner set about kicking lumps out of the Spurs' legend but matters turned ugly when the Leeds skipper caught Mackay with a mistimed lunge on the leg he had only just recovered from breaking. "He was a brilliant little player but a dirty little b******," said Mackay later. "I could've killed him that day." One newspaper report even called him "10st of barbed wire" such was his tenacity in the tackle.  First known as "Billy the Kid", Bremner's approach to his footballing career was "work hard, play hard".
Off the pitch, Bremner ate beans and toast most mornings for breakfast, loved a Kit-Kat with a brew,

and liked nothing more than sparking up a cigarette once he was done training or playing.  On the pitch, the 5ft5in terrier was a passionate Scottish talent whose skill and famously inspiring leadership as well as a fierce determination made him vital to the success of Leeds United (1959-76), later Hull City (1976-78), and of course, Scotland obtaining 54 caps from 1965-75 captaining his country at the 1974 World Cup Finals. Billy Bremner also ranked "F

ootballer of the Year" in 1970.

Leeds teammate Allan Clarke once reflected on Bremner,  When Billy Bremner took us across the white line, whether it was at Elland Road or Anfield or Old Trafford, Stamford Bridge, those players, my team, we died for Leeds United we died for that club, Billy was the best player who ever played, they don't make players like him today." In later years, the Leeds United club hero Billy Bremner became manager of Leeds (1985-88) as well as local club Doncaster Rovers (1978-85, 1989-92) Billy was born December 9, 1942, and sadly passed away on December 7, 1997. Having made 771 appearances, scoring 115 goals, as well as v

oted Leeds United's greatest player of all time, today Leeds fans pay a special tribute to a sculpted Bronze Billy Bremner statue right outside Elland Road.
George Best
George Best is widely considered one of the greatest football (soccer) players of all time. He was a Northern Irish forward who played for Manchester United and the Northern Ireland national team during his career. He was known for his exceptional technical skills, agility, and dribbling ability, as well as his vision, passing, and goal-scoring ability.
Best was known for his flair and style on the field, and his ability to entertain and excite the crowd. He was a player who could score goals, create assists and make the game look easy. He was also known for his ability to score spectacular goals, and for his ability to take on and beat multiple defenders. He was also a humble, charismatic and charming person, who was highly respected by fans and peers alike.
During his time at Manchester United, Best helped the team win the English First Division (now the Premier League) twice, and the European Cup (now the Champions League) once. He also won the Ballon d'Or (European Footballer of the Year) award in 1968, and was named to the FIFPro World XI (a team of the best players in the world) in 1968 and 1974. He was also included in the FIFA 100 list of the greatest living footballers and was inducted into the English Football Hall of Fame in 2002.
In summary, George Best was an exceptional player who possessed a rare combination of skill, flair, and vision, and his impact on the game of football is still felt today. He was a true legend of the game and his legacy continues to live on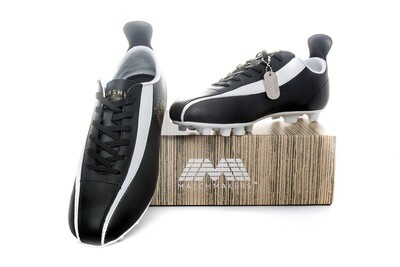 Stylo Matchmakers® Heirship Sixty Eight
Stylo Matchmakers® Heirship Sixty Eight