In the current era of football, we are witnessing the rise of a new style of play. One that is characterized by flash and spectacle. But as true lovers of the sport, this is not the football we know and cherish.
We are the purists, for whom the game is about technique and tradition, about the beauty of a well-executed pass, and the grace of a perfectly-timed tackle.
Our football boots are a symbol of identity on the pitch, a tangible representation of our commitment to the traditional values of the sport.
With Stylo Matchmakers, the purists have a brand they can call their own, and a boot that will help them to stand out against the tide of modern football.

George Best
George Best is widely considered one of the greatest football (soccer) players of all time. He was a Northern Irish forward who played for Manchester United and the Northern Ireland national team during his career. He was known for his exceptional technical skills, agility, and dribbling ability, as well as his vision, passing, and goal-scoring ability.
Best was known for his flair and style on the field, and his ability to entertain and excite the crowd. He was a player who could score goals, create assists and make the game look easy. He was also known for his ability to score spectacular goals, and for his ability to take on and beat multiple defenders. He was also a humble, charismatic and charming person, who was highly respected by fans and peers alike.
During his time at Manchester United, Best helped the team win the English First Division (now the Premier League) twice, and the European Cup (now the Champions League) once. He also won the Ballon d'Or (European Footballer of the Year) award in 1968, and was named to the FIFPro World XI (a team of the best players in the world) in 1968 and 1974. He was also included in the FIFA 100 list of the greatest living footballers and was inducted into the English Football Hall of Fame in 2002.
In summary, George Best was an exceptional player who possessed a rare combination of skill, flair, and vision, and his impact on the game of football is still felt today. He was a true legend of the game and his legacy continues to live on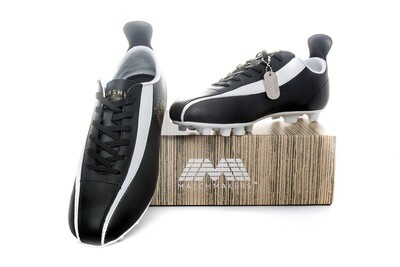 Stylo Matchmakers® Heirship Sixty Eight
Stylo Matchmakers® Heirship Sixty Eight
Football heritage is not something one should take lightly. Football is not just a game, it is a way of life.
We believe honoring the legends of football is a vital part of preserving our rich football heritage. Stylo Matchmakers football boots were worn by some of the games greatest players with Pele, George Best, Kevin Keegan as well as many more.
These legends give us memories to cherish, and stories to inspire us. They brought pride and joy to the hearts of millions.
Just as we honor and preserve the monuments of our history, so too must we honor and preserve the legends of football.  They must be remembered and celebrated for generations to come.
Leather Football Boots –  Black Football Boots – White Football Boots  – Professional Football Boots  – Pele Football Boots –  George Best Football Boots – Kevin Keegan Football Boots – Soccer Cleats – Bobby Moore Football Boots